To wrap up the 2014-2015 Whispering Woods field season, we're posting some of the experiential essays written by our students.  These essays were part of their end-of-semester final reports.  In addition to reporting the semester's finds, analysis, and recommendations, for future work, students were asked to end with a 1-pg essay on what the class meant to them and to provide the instructors with constructive feedback.  This essay is from Jessica Cieslewicz, a double anthropology/history major: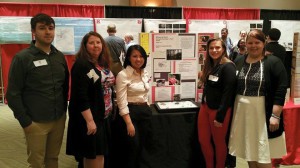 "I am very grateful that was able to participate in the excavation of the Whispering Woods archaeological dig site. Being able to take part in one semester was amazing but having the opportunity to participate for two semesters was even better. I never thought I would have the chance to do something like this that will benefit me in many ways including my educational goals and my career goals. I know I have said it multiple times, that I never thought I could find a path to follow in archaeology because everything would be found by the time I made it there, but I have come to realize that there is still so much left to be discovered. By taking this course, I was able to see that my interest in archaeology is still there and now I am interested in working with the artifacts directly, whether it is in a museum or a lab.
With this being my second semester working in the field, I feel that I was able to further my knowledge in the field and with handling artifacts. I learned something new every class, whether it be how to better read a munsell or determine the type of soil it was. I also learned that it is okay to move an STP due to all the awesome roots we had to deal with. I had more opportunities to work in an excavation unit and continue to learn how to create profile drawings for one. Excavation unit 6 was probably the best EU that we have opened so far due to how many items it contains. A personal favorite of mine was learning how to handle artifacts. I enjoyed the information all of you provided us with and the class time that we spent cleaning the artifacts and looking up makers marks and identifying the types of ceramics that we had. I think this is all really fascinating to me because I am such a history enthusiast and it is exciting to see our history, especially when we live around so much of it.
I know things were crazy this semester with conferences and work and everything else but I did miss having the chance to hold another open archaeology day. I think that was one of the greatest ways to open the site to the public, especially those whole live there, so that they can get some of the same experience that we now have. I hope it can be done during the summer time before the site is either approved for the go-ahead or determined a phase III would be need. That would be awesome in my opinion.  I know it is a lot of hard work but it has been so much fun being able to be an archaeologist-in-training.
I enjoyed having the opportunity to help and share my own knowledge and experience with everyone new to the site. It was nice having some more people join the course and it made those long days in the rain fun and most definitely worth it. The semester flew by quite quickly but I am glad to have shared the experience with such wonderful people. Like always, all of you guys have my deepest appreciation for creating such a wonderful experience. I enjoyed working with each one of you and learning all that I could in such a short period of time. I don't think I could ever thank you guys enough for sharing your knowledge and experience with me. I know I said this last semester but I never thought I would have the opportunity to participate in something this big that would allow me to gain so much experience in the field and with handling history. Thank you so much for being there for all of us."