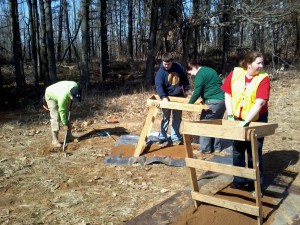 Finally after seven weeks of sub-zero temperatures, the Whispering Woods team has returned to the field.  It was a balmy 50 degrees F and a beautiful day to do some archaeology!  Oh, how great it was to be back!
The class all arrived on time.  Twelve cars parked in a soy field.  We started with a brief introduction to the landscape of the site and Alex took the students around through the woods and down to the tributary of Old Man's Creek, the focal point of our requirement to conduct an archaeological survey.  Next, our seasoned students demonstrated to the newbies how to dig a shovel test pit (STP), how to screen, and how to complete the field paperwork.  The shovels were then passed to the fresh hands for the new students to give it a go.
After that, we were off.  We broke into three field crews, each one with student from last semester acting as crew chief and mentor.  We are working on site 4, one of the larger sites, and there are many, many STPs to do!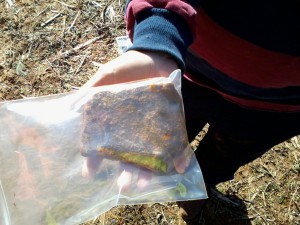 And then….there was a loud clunk.  The sound of shovel striking something – stone or metal?  After only four STPs, we found something.  Something big and metal.  It warranted a small excavation until (EU), not what we were planning for our first week in the field, but there was something there that needed to be documented in situ.
The students strung up a small (3ft sq) EU and excavated with trowels.  Unfortunately time was up before we could get down to the context containing the metal. Next week is spring break and we are having a mini field school.  For extra credit, the students can spend five glorious days in the field.  So the EU will be revisited on Monday.  Stay tuned!