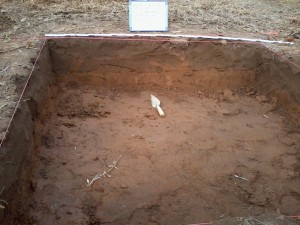 The semester is drawing to a close!  Week 11 (Nov 14th) was our last week in the field.  We wrapped up EUs 2 & 3 and the students learned how to do profile drawings.  It was a bit of a rush to get it all done during our short class time, but the students worked really hard!  The hardest part of all was back-filling the EUs once we were done.  We moved a lot of dirt!
Week 12 (Nov 21st) was our first class indoors since the start of the semester!  Our job was to wash all the artifacts from Site 7, complete documentation, and photograph each one.  We were surprised at how much we actually found despite the fact that Site 7 was not recommended for Phase II excavation.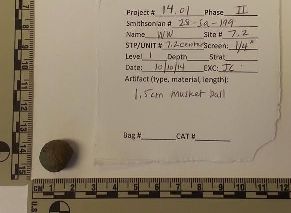 We found fire cracked rock, prehistoric ceramic, flakes, and even a musket ball!  We made a diagram on the board of our finds (P for prehistoric, H for historic, B for both) to get an idea of distribution.
This week, Week 13, we learned about mapping techniques – plan drawings, specifically.  Alex and Kimberlee set up mock EUs on the floor with masking tape.  We threw a number of items in each one.  The students then made a scale drawing of the EU for practice.  We also went over what was required for the final report due at the end of the semester.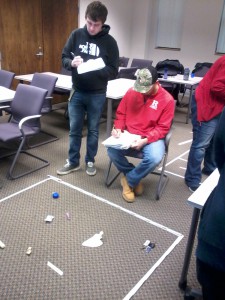 Next week is our last class!  Fortunately for us, Sam, Jess, Arthur, and Levi are all coming back for the class next Spring!